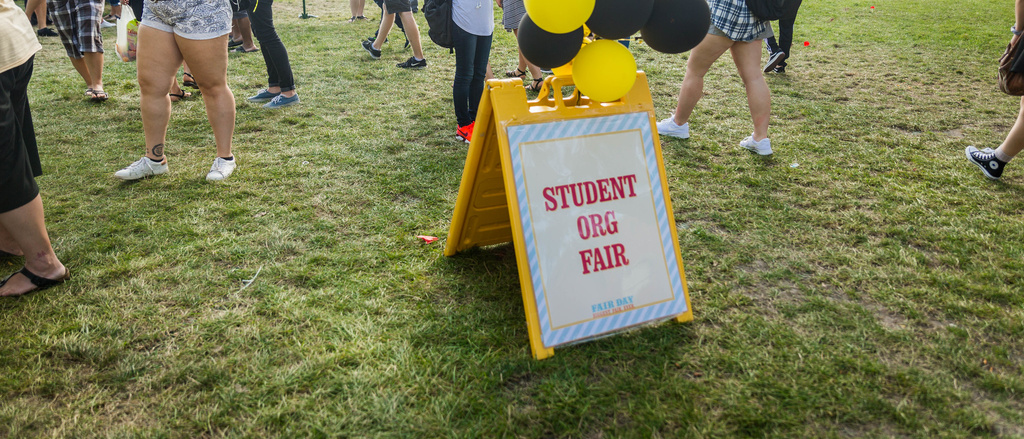 The Student Engagement Fair happens each fall and spring semester.
The Spring 2023 Student Engagement Fair
Wednesday,

January 25, 2023

4:30-7:00 p.m.

in the Iowa Memorial Union
Why join a student organization?
Meet friends with similar, or differing, interests
Learn about new activities and ways of thinking
Participate in cultural, sports, political, or entertainment activities
Run for positions in the organization
Build skills and your resume
On the day of the event
Find the list of organizations below
Think about what might interest you, and what might challenge you to Excel, Stretch, Choose, Engage, or Serve (the Iowa Challenge)
Can't make it? That's okay! Set up an advising appointment to learn more about how you can engage during your time at Iowa. 
Map of the fair and other info
To locate a specific organization at the fair, first look at the maps and the organization list provided below. The list will indicate where you will find the organization by the color coded areas on the map.
Location of participating organizations at the fair
| Student Organization | Primary Contact First | Primary Contact Last | Primary Contact Email | Category | Section Color | Location |
| --- | --- | --- | --- | --- | --- | --- |
| A Moment of Magic at UI | Rachael | Volkman | rachael-volkman@uiowa.edu | Performance, Service, | Purple | Main Lounge on IMU 1st Floor |
| Active Minds | Eden | Conroy | eden-conroy@uiowa.edu | Sport Clubs, Recreation & Wellness | Yellow | Main Lounge on IMU 1st Floor |
| Alpha Chapter of Sigma Lambda Gamma National Sorority Inc | Dominique | Badajoz | aiyana-bolar@uiowa.edu | Fraternity & Sorority Life | Orange | Main Lounge on IMU 1st Floor |
| Alpha Chi Sigma- Alpha Theta | Lauren | Palkovic | lpalkovic@uiowa.edu | Fraternity & Sorority Life | Orange | Main Lounge on IMU 1st Floor |
| Alpha Delta Pi- Alpha Beta Chapter | Amanda | Behles | amanda-behles@uiowa.edu | Fraternity & Sorority Life | Orange | Main Lounge on IMU 1st Floor |
| alpha Kappa Delta Phi International Sorority Inc. | Amy | Huynh | trucly@uiowa.edu | Fraternity & Sorority Life | Orange | Main Lounge on IMU 1st Floor |
| Alpha Phi Alpha Fraternity, Incorporated | Caymen | Woods | caymen-woods@uiowa.edu | Fraternity & Sorority Life | Orange | Main Lounge on IMU 1st Floor |
| Alpha Phi Omega | Morgan | Leach | morgan-leach@uiowa.edu | Academic/Misc | Blue | Lower Level of IMU |
| Alpha Sigma Phi | Michael | Janes | mjjanes@uiowa.edu | Fraternity & Sorority Life | Orange | Main Lounge on IMU 1st Floor |
| American Advertising Federation | Brendan | O'Connor | brenoconnor@uiowa.edu | Academic, Honors | Blue | Lower Level of IMU |
| American Association of University Women | Jessica | Valois | jjvalois@uiowa.edu | Political, religious, spiritual, environmental, special interests | Green | Main Lounge on IMU 1st Floor |
| American Cancer Society on Campus | Meghana | Yellepeddi | Myellepeddi@uiowa.edu | Performance, Service | Purple | Main Lounge on IMU 1st Floor |
| American Institute of Aeronautics and Astronautics | Samuel | Witte | samwitte@uiowa.edu | Political, religious, spiritual, environmental, special interests | Green | Main Lounge on IMU 1st Floor |
| American Red Cross Club at Iowa | Marilyn | Simonsen | marilyn-simonsen@uiowa.edu | Performance, Service | Purple | Main Lounge on IMU 1st Floor |
| American Sign Language Club | Jacie | Van Wyk | gretchen-larson@uiowa.edu | Political, religious, spiritual, environmental, special interests | Green | Main Lounge on IMU 1st Floor |
| Anime and Manga Club | Alexander | Wallace | alexander-m-wallace@uiowa.edu | Performance, Service | Purple | Main Lounge on IMU 1st Floor |
| Association of Latinos Moving Ahead | Raquel | Valladolid | raquel-valladolid@uiowa.edu | Multicultural | Red | Main Lounge on IMU 1st Floor |
| Ballet Club | Daniela | Rybarczyk | daniela-rybarczyk@uiowa.edu | Sport Clubs, Recreation & Wellness | Yellow | Main Lounge on IMU 1st Floor |
| Big Brothers Big Sisters at Iowa | Grace | Reiter | grace-reiter@uiowa.edu | Performance, Service | Purple | Main Lounge on IMU 1st Floor |
| Bijou Film Board | Harry | Westergaard | hwestergaard@uiowa.edu | Performance, Service | Purple | Main Lounge on IMU 1st Floor |
| Black Student Union | Shannon | McNeal | Shannon-mcneal@uiowa.edu | Multicultural | Red | Main Lounge on IMU 1st Floor |
| Body Image and Eating Disorder Awareness | Natalie | Schloss | neschloss@uiowa.edu | Sport Clubs, Recreation & Wellness | Yellow | Main Lounge on IMU 1st Floor |
| Bowling club | Ravi | Patel | Rpatel30@uiowa.edu | Sport Clubs, Recreation & Wellness | Yellow | Main Lounge on IMU 1st Floor |
| Brazilian Jiu-jitsu Club | Alexandra | Loren | Aloren@uiowa.edu | Sport Clubs, Recreation & Wellness | Yellow | Main Lounge on IMU 1st Floor |
| Camp Kesem | Jenna | Atkins | jenna-atkins@uiowa.edu | Performance, Service | Purple | Main Lounge on IMU 1st Floor |
| Campus Christian Fellowship | Bethany | Connon | Bgconnon@uiowa.edu | Political, religious, spiritual, environmental, special interests | Green | Main Lounge on IMU 1st Floor |
| Chess Club | Nikhil | Patel | npatel28@uiowa.edu | Political, religious, spiritual, environmental, special interests | Green | Main Lounge on IMU 1st Floor |
| Chinese Dance Club | Yifeng | Zhang | yifeng-zhang@uiowa.edu | Multicultural | Red | Main Lounge on IMU 1st Floor |
| Chinese Students and Scholars Association | Katherine | Lyu | shijia-lyu@uiowa.edu | Multicultural | Red | Main Lounge on IMU 1st Floor |
| Circle K International | Raegan | Krumboltz | raegan-krumboltz@uiowa.edu | Performance, Service | Purple | Main Lounge on IMU 1st Floor |
| City Planners at Iowa | Spencer | Blackwell | smblackwll@uiowa.edu | Performance, Service | Purple | Main Lounge on IMU 1st Floor |
| Cue Club! | Ika | Guan | yigguan@uiowa.edu | Sport Clubs, Recreation & Wellness | Yellow | Main Lounge on IMU 1st Floor |
| Dance Club at the university of Iowa | Sierra | Christensen | Sierra-Christensen@uiowa.edu | Sport Clubs, Recreation & Wellness | Yellow | Main Lounge on IMU 1st Floor |
| Debate club | Clay | Braselle | Cbraselle@uiowa.edu | Political, religious, spiritual, environmental, special interests | Green | Main Lounge on IMU 1st Floor |
| Degowin Blood Center Student Organization | Karah | Putnam | karah-putnam@uiowa.edu | Performance, Service | Purple | Main Lounge on IMU 1st Floor |
| Delta Phi Lambda Sorority, Inc | Summer | Choi | huiseo-choi@uiowa.edu | Fraternity & Sorority Life | Orange | Main Lounge on IMU 1st Floor |
| Delta Sigma Pi | Anna | Bauer | anna-m-bauer@uiowa.edu | Performance, Service | Purple | Main Lounge on IMU 1st Floor |
| Delta Tau Delta | Ryan | Nagel | ian-hornsby@uiowa.edu | Fraternity & Sorority Life | Orange | Main Lounge on IMU 1st Floor |
| Delta Zeta | Olivia | Hurwitz | olivia-hurwitz@uiowa.edu | Fraternity & Sorority Life | Orange | Main Lounge on IMU 1st Floor |
| Determined Gardeners Incorporating Radical Farming at The University of Iowa | Esmee | Belzer | esmee-belzer@uiowa.edu | Political, religious, spiritual, environmental, special interests | Green | Main Lounge on IMU 1st Floor |
| Device Advice | Colette | Reiche | colette-reiche@uiowa.edu | Performance, Service | Purple | Main Lounge on IMU 1st Floor |
| Earthwords: the undergraduate literary review | Maura | O'Dea | maura-odea@uiowa.edu | Performance, Service | Purple | Main Lounge on IMU 1st Floor |
| English Society | Evalyn | Harper | erharper@uiowa.edu | Political, religious, spiritual, environmental, special interests | Green | Main Lounge on IMU 1st Floor |
| Environmental Coalition at Iowa | LilliAnna | Scott | lilscott@uiowa.edu | Political, religious, spiritual, environmental, special interests | Green | Main Lounge on IMU 1st Floor |
| Esports @ Iowa | Tanner | Welsh | tawelsh@uiowa.edu | Sport Clubs, Recreation & Wellness | Yellow | Main Lounge on IMU 1st Floor |
| Filipino Student Association | Jess | Reniva | jreniva@uiowa.edu | Multicultural | Red | Main Lounge on IMU 1st Floor |
| Financial Management Association | Henry | Long | henrylong@uiowa.edu | Academic, Honors | Blue | Lower Level of IMU |
| Food Pantry at Iowa | Faith | Surface | faith-surface@uiowa.edu | Performance, Service | Purple | Main Lounge on IMU 1st Floor |
| Francophones | Jordan | Mimms | jordan-mimms@uiowa.edu | Multicultural | Red | Main Lounge on IMU 1st Floor |
| Gamma Rho Lambda National Sorority | Bethie | Walker | Elizabeth-a-walker@uiowa.edu | Fraternity & Sorority Life | Orange | Main Lounge on IMU 1st Floor |
| Green Bandana Project | Ainsley | Shird | ainsley-shird@uiowa.edu | Performance, Service | Purple | Main Lounge on IMU 1st Floor |
| Hallyu@Iowa | Mariana | Tejeda | mariana-tejeda-1@uiowa.edu | Performance, Service | Purple | Main Lounge on IMU 1st Floor |
| Hawkeye Fitness Club | Marvin | Truong | marvin-truong@uiowa.edu | Sport Clubs, Recreation & Wellness | Yellow | Main Lounge on IMU 1st Floor |
| Hawkeye Flying Club | Beau | Benzing | beau-benzing@uiowa.edu | Performance, Service | Purple | Main Lounge on IMU 1st Floor |
| Hawkeye Optimist Chapter | Kaitlyn | Mitchell | kaitlyn-mitchell@uiowa.edu | Performance, Service | Purple | Main Lounge on IMU 1st Floor |
| Hawkeye Sports Business Association | Nathan | Escobedo | nescobedo@uiowa.edu | Academic, Honors | Blue | Lower Level of IMU |
| Hawkeye Sunset Club | Andrew | Kovar | akovar@uiowa.udu | Sport Clubs, Recreation & Wellness | Yellow | Main Lounge on IMU 1st Floor |
| Healthy LifeStars Student Advisory Council | Katie | Yurcus | Zachary-campbell@uiowa.edu | Performance, Service | Purple | Main Lounge on IMU 1st Floor |
| Homecoming Council | Matt | McDonnell | matthew-mcdonnell-1@uiowa.edu | Performance, Service | Purple | Main Lounge on IMU 1st Floor |
| Institute of Electrical and Electronics Engineers | Janet | Jonga | janet-jonga@uiowa.edu | Academic, Honors | Blue | Lower Level of IMU |
| InvestHer | Anna | Bauer | abauer3@uiowa.edu | Performance, Service | Purple | Main Lounge on IMU 1st Floor |
| Iowa CHAARG | Savanna | Handy | savanna-handy@uiowa.edu | Sport Clubs, Recreation & Wellness | Yellow | Main Lounge on IMU 1st Floor |
| Iowa Formula Racing | Leah | Elliott | leah-elliott@uiowa.edu | Academic, Honors | Blue | Lower Level of IMU |
| Iowa Young Americans for Freedom | Jasmyn | Jordan | Jasmyn-Jordan@uiowa.edu | Political, religious, spiritual, environmental, special interests | Green | Main Lounge on IMU 1st Floor |
| Japan Karate-Do Organizarion at University of Iowa | Mason Gordon | Danaher | masongordon-danaher@uiowa.edu | Sport Clubs, Recreation & Wellness | Yellow | Main Lounge on IMU 1st Floor |
| Kairos | Kaitlyn | Severson | kaitlyn-severson@uiowa.edu | Political, religious, spiritual, environmental, special interests | Green | Main Lounge on IMU 1st Floor |
| KRUI Radio | Daniela | Rybarczyk | daniela-rybarczyk@uiowa.edu | Performance, Service | Purple | Main Lounge on IMU 1st Floor |
| Lacrosse (U of I - Womens) | Sydney | Csoka | sydney-csoka@uiowa.edu | Sport Clubs, Recreation & Wellness | Yellow | Main Lounge on IMU 1st Floor |
| Lambda Chi Alpha | Ethan | Koren | ekoren@uiowa.edu | Fraternity & Sorority Life | Orange | Main Lounge on IMU 1st Floor |
| Lambda Theta Nu Sorority, Inc. | Anna | Ptacek | anna-ptacek@uiowa.edu | Fraternity & Sorority Life | Orange | Main Lounge on IMU 1st Floor |
| League of Legends Club | Braedon | Kirkpatrick | braedon-kirkpatrick@uiowa.edu | Sport Clubs, Recreation & Wellness | Yellow | Main Lounge on IMU 1st Floor |
| Living Memoirs Project | Nikash | Pradhan | nikash-pradhan@uiowa.edu | Performance, Service | Purple | Main Lounge on IMU 1st Floor |
| Lutheran Campus Ministry | Hannah | Franke | hfranke@uiowa.edu | Political, religious, spiritual, environmental, special interests | Green | Main Lounge on IMU 1st Floor |
| Medicus Pre-Medical Society | Madelyn | Mayeski | madelyn-mayeski@uiowa.edu | Political, religious, spiritual, environmental, special interests | Green | Main Lounge on IMU 1st Floor |
| Men's Ultimate Frisbee Club | Avery | Bandstra | avery-bandstra@uiowa.edu | Sport Clubs, Recreation & Wellness | Yellow | Main Lounge on IMU 1st Floor |
| Microbiology Undergraduate Student Association | Riya | Parekh | Riya.parekh@uiowa.edu | Academic, Honors | Blue | Lower Level of IMU |
| Minority Association of Pre-Health Students | Susan | Anil | susan-anil@uiowa.edu | Academic, Honors | Blue | Lower Level of IMU |
| Multicultural Business Student Organization | Angela | Pandit | nikole-molina@uiowa.edu | Multicultural | Red | Main Lounge on IMU 1st Floor |
| Music Creators of Iowa | Keaton | Hofmann | keaton-hofmann@uiowa.edu | Performance, Service | Purple | Main Lounge on IMU 1st Floor |
| National Retail Federation Student Association | Landon | Stoll | landon-stoll@uiowa.edu | Multicultural | Red | Main Lounge on IMU 1st Floor |
| Native American Student Association | Hunter | Wienke | abigail-buffalo@uiowa.edu | Multicultural | Red | Main Lounge on IMU 1st Floor |
| Newman Catholic Student Center | Bennett | Heisterkamp | bennettrheisterkamp@uiowa.edu | Multicultural | Red | Main Lounge on IMU 1st Floor |
| Organization for the Active Support of International Students | Rachel | Li | binrui-li@uiowa.edu | Multicultural | Red | Main Lounge on IMU 1st Floor |
| Orthodox Christian Fellowship | Evren | Sasmazer | esasmazer@uiowa.edu | Multicultural | Red | Main Lounge on IMU 1st Floor |
| Pakistani Students Association | Saeb | Suhaib | saeb-suhaib@uiowa.edu | Multicultural | Red | Main Lounge on IMU 1st Floor |
| Panhellenic Council | Angela | Nyunt | gc-phc-president@uiowa.edu | Fraternity & Sorority Life | Orange | Main Lounge on IMU 1st Floor |
| Partners In Health Engage | Shawn | Sanyal | shawn-sanyal@uiowa.edu | Political, religious, spiritual, environmental, special interests | Green | Main Lounge on IMU 1st Floor |
| Personal Genome Learning Center | Connor | Linzer | Connor-linzer@uiowa.edu | Political, religious, spiritual, environmental, special interests | Green | Main Lounge on IMU 1st Floor |
| Phi Alpha Delta Law Fraternity | Zachary | Springer | Zachary-springer@uiowa.edu | Academic, Honors | Blue | Lower Level of IMU |
| Phi Gamma Nu Professional Development Organization | Hannah | Sommer | Hannah-sommer@uiowa.edu | Political, religious, spiritual, environmental, special interests | Green | Main Lounge on IMU 1st Floor |
| Pre-Physical Therapy Organization | Hailey | Thomas | hgthomas@uiowa.edu | Academic, Honors | Blue | Lower Level of IMU |
| Queer Liberation Front | Emma | Hagemann | emhagemann@uiowa.edu | Multicultural | Red | Main Lounge on IMU 1st Floor |
| Ratio Christi | James | Klopfenstein | aurora-navarro@uiowa.edu | Political, religious, spiritual, environmental, special interests | Green | Main Lounge on IMU 1st Floor |
| Robotics at Iowa | Luke | Weger | luke-weger@uiowa.edu | Academic, Honors | Blue | Lower Level of IMU |
| Running Club at the University of Iowa | Cara | Heuer | Cara-heuer@uiowa.edu | Sport Clubs, Recreation & Wellness | Yellow | Main Lounge on IMU 1st Floor |
| SACNAS at the University of Iowa | Jakeline | Murillo | jakeline-murillo@uiowa.edu | Academic, Honors | Blue | Lower Level of IMU |
| SCOPE Productions (Student Commission on Programming Entertainment) | Jessie | Kasik | jessie-kasik@uiowa.edu | Performance, Service | Purple | Main Lounge on IMU 1st Floor |
| Sigma Lambda Beta International Fraternity Incorporated | Kevin | Plata | kevin-plata@uiowa.edu | Fraternity & Sorority Life | Orange | Main Lounge on IMU 1st Floor |
| Sigma Tau Delta International English Honors Society, Alpha Tau Iota Chapter of Iowa | Noreasa | Higgins | noreasa-higgins@uiowa.edu | Academic, Honors | Blue | Lower Level of IMU |
| Sista Speak | Shannon | McNeal | Shannon-mcneal@uiowa.edu | Multicultural | Red | Main Lounge on IMU 1st Floor |
| Ski and Snowboard Club at Iowa | Amanda | Behles | amanda-behles@uiowa.edu | Sport Clubs, Recreation & Wellness | Yellow | Main Lounge on IMU 1st Floor |
| Society of Hispanic Professional Engineers | Betsy | Montiel | betsy-montiel@uiowa.edu | Political, religious, spiritual, environmental, special interests | Green | Main Lounge on IMU 1st Floor |
| Society of Women Engineers | Celesta | Cox | celesta-cox@uiowa.edu | Academic, Honors | Blue | Lower Level of IMU |
| South Asian Student Alliance | Sahithi | Shankaiahgari | sshankaiahgari@uiowa.edu | Multicultural | Red | Main Lounge on IMU 1st Floor |
| Spanish Club | Malvika | Khadiya | malvika-khadiya@uiowa.edu | Multicultural | Red | Main Lounge on IMU 1st Floor |
| Special Olympics- University of Iowa Chapter | Emily | Hess | emily-hess@uiowa.edu | Performance, Service | Purple | Main Lounge on IMU 1st Floor |
| Sri Lankan student association at uiowa (SLSA) | Nimesh Pasan Ranasin | Ranasinghe Arachchige | nimesh-pasan@uiowa.edu | Multicultural | Red | Main Lounge on IMU 1st Floor |
| Student Advancement Network | Lucie | Brennan | lucie-brennan@uiowa.edu | Performance, Service | Purple | Main Lounge on IMU 1st Floor |
| Student Advocates for Planned Parenthood | Bob | Pentuic | Rpentuic@uiowa.edu | Political, religious, spiritual, environmental, special interests | Green | Main Lounge on IMU 1st Floor |
| Student Video Productions | James | Altschul | jsaltschul@uiowa.edu | Performance, Service | Purple | Main Lounge on IMU 1st Floor |
| Students For Life | Sophia | Claus | lena-branch@uiowa.edu | Political, religious, spiritual, environmental, special interests | Green | Main Lounge on IMU 1st Floor |
| Students to Assist Recruitment | Angela | Avise | angela-avise@uiowa.edu | Service | Blue | Lower Level of IMU |
| Sudanese Student Association | Ekhlas | Khalil | ekhlas-khalil@uiowa.edu | Multicultural | Red | Main Lounge on IMU 1st Floor |
| Table Tennis Club | Cade | McDonald | Cmcdonald2@uiowa.edu | Sport Clubs, Recreation & Wellness | Yellow | Main Lounge on IMU 1st Floor |
| The Diabetes Link | Claire | Hennessy | claire-hennessy@uiowa.edu | Political, religious, spiritual, environmental, special interests | Green | Main Lounge on IMU 1st Floor |
| The Doily Allergen | Bel | Mercado | imercado@uiowa.edu | Performance, Service | Purple | Main Lounge on IMU 1st Floor |
| The Middle Eastern and North African Student Association | Jenna | Khan | Jenna-khan@uiowa.edu | Multicultural | Red | Main Lounge on IMU 1st Floor |
| The Multicultural Student Association | Ekaterina | Lopez | Ekaterina-lopez@uiowa.edu | Multicultural | Red | Main Lounge on IMU 1st Floor |
| The Muslim Student Association | Jenna | Khan | Jenna-khan@uiowa.edu | Multicultural | Red | Main Lounge on IMU 1st Floor |
| The Producers | Braxten | Jones | braxjones@uiowa.edu | Performance, Service | Purple | Main Lounge on IMU 1st Floor |
| The University of Iowa College Republicans | Mary | Weston | Mary-Weston@uiowa.edu | Political, religious, spiritual, environmental, special interests | Green | Main Lounge on IMU 1st Floor |
| The Womens Network at Iowa | Manuela | Lizarazu | mlizarazu@uiowa.edu | Academic, Honors | Blue | Lower Level of IMU |
| Tippie Technology Innovation Association | Vincent | Parcelli | vincent-parcelli@uiowa.edu | Academic, Honors | Blue | Lower Level of IMU |
| Triathlon Club (UofI) | Zachary | Williston | zwilliston@uiowa.edu | Sport Clubs, Recreation & Wellness | Yellow | Main Lounge on IMU 1st Floor |
| Turning Point USA | Lena | Branch | brady-pratt@uiowa.edu | Political, religious, spiritual, environmental, special interests | Green | Main Lounge on IMU 1st Floor |
| UIBIO Biological Interests Organization | Amanda | Caraballo | amanda-caraballo@uiowa.edu | Academic, Honors | Blue | Lower Level of IMU |
| University Democrats | Niksa | Poleksic | niksa-poleksic@uiowa.edu | Political, religious, spiritual, environmental, special interests | Green | Main Lounge on IMU 1st Floor |
| University of Iowa Fencing Club | Emma | Runestad | emma-runestad@uiowa.edu | Sport Clubs, Recreation & Wellness | Yellow | Main Lounge on IMU 1st Floor |
| Vegan Society at the University of Iowa | Dany | Mendoza | damendoza@uiowa.edu | Political, religious, spiritual, environmental, special interests | Green | Main Lounge on IMU 1st Floor |
| Vietnamese Student Association | Sarah | Phan | sarphan@uiowa.edu | Multicultural | Red | Main Lounge on IMU 1st Floor |
| Women in Business | Christina | Kaufman | Christina-kaufman@uiowa.edu | Academic, Honors | Blue | Lower Level of IMU |
| Women's Club Water Polo | Natalie | Davis | natalie-davis@uiowa.edu | Sport Clubs, Recreation & Wellness | Yellow | Main Lounge on IMU 1st Floor |
| Womens Rugby Club | Olivia | Ziegler | oziegler@uiowa.edu | Sport Clubs, Recreation & Wellness | Yellow | Main Lounge on IMU 1st Floor |
| Young Democratic Socialists at Iowa | Brian | Nilles | brian-nilles@uiowa.edu | Multicultural | Red | Main Lounge on IMU 1st Floor |