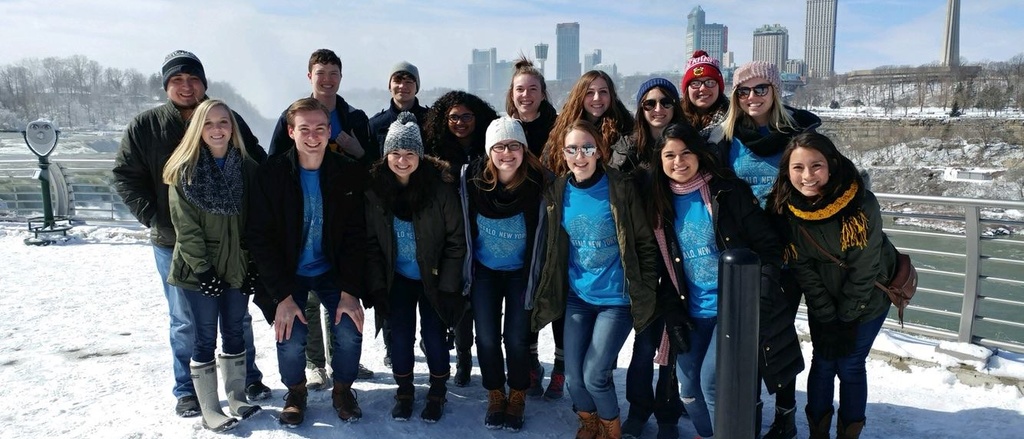 The Children's Health section of Hawkeye Service Breaks  traveled to Omaha, NE in the spring of 2022! This section was sponsored by the University of Iowa Dance Marathon. This section worked to advocate for children's health by working with nearby children's hospitals and organizations looking to do the same. In doing so, we learned more about the Omaha community and culture and explored different portions of the city and what makes Omaha special! A (not so) Fun Fact about children's health is only 3 drugs have been approved for pediatric cancer treatment since 1980!
This trip is Sponsored by University of Iowa Dance Marathon
The Basic Needs trip focused primarily on the topics of food Insecurity, housing justice, and clothing. While the group focus was broad, it was an incredible opportunity for students to understand what service really means and the impacts it can have based on a group's needs. The students traveled to Indianapolis where they were introduced to a variety of different groups with various backgrounds and social issues. Basic Needs can be interpreted in a plethora of ways and holds different meanings to different groups; the team did its best to make sure that everyone's voice is heard and needs are being met.
This trip was Sponsored in part by The Food Pantry at Iowa.
The Environmental Justice team traveled to Minneapolis, Minnesota in order to engage in service and learn about the rich culture there. Marginalized people and individuals of a lower socioeconomic status are disproportionately exposed to the effects of climate change and other environmental hazards. This team learned about the history of the environmental justice movement, as well as the prevalence of environmental racism in our society. They worked with several community partners in the Twin Cities to understand what kind of efforts can be done to help fight environmental injustices, and to practice such service work. Along with performing service and listening to voices in the community, team members spent time enjoying the vibrant city of Minneapolis. There are over 20 lakes, 180 parks, and the world's largest continuous skyway to explore.
Education Equity was a team of students traveling to Kansas City, Missouri. The Spring Break trip took place from March 13th to 20th.  The goal of this trip was for students to learn about educational problems within Kansas City Schools. Kansas City has a great jazz scene, as well as plenty of great BBQ restaurants. Kansas City has a bunch of free museums and has plenty of art pieces. 
This trip was Sponsored by the Baker Teacher Leader Center.
The Hawkeye Service Breaks group based around mentoring and education took place within the students' very own Iowa City community! The group focused on topics such as allocation and distribution of resources, home challenges that students face, and so much more. It's important to understand the impact that mentoring and education can have on students who may face certain challenges that are out of their control and can unfortunately impair their access to opportunities available to them and their peers. Working closely with these students was a great experience for the group since it's so close to home and can allow and even encourage strong bonds to be made that go beyond the framework of the group itself. The group aimed to cultivate an environment based on positivity in order to meet the needs of those they are doing service for. The Iowa City community is so much more than just the University of Iowa and hopefully this will give the group an opportunity to become more aware of the city they know and love!
This trip was Sponsored by Fraternity and Sorority Life.
The Economic Justice trip looked at different aspects of SES, economic challenges, barriers and more. This team traveled to Detroit, Michigan to learn about the vibrant community and participate in a week of service over spring break. Combine cultural experiences with a week of service for a one-of-a-kind spring break experience!
This trip was Sponsored by Tippie College of Business.
The Social Justice team dived into root causes and specific issues within the realm of social justice. This team traveled to St. Louis, a historic Midwestern city. With a combination of cultural experiences and service opportunities.
This trip was Sponsored by the Center for Diversity and Enrichment.